Terrazzo brick machine is the production of various Caizhuan equipment for shopping malls, parks, hospitals, sidewalks, stadiums and other places, can produce all kinds of different specifications, flower type, thickness of the product. The terrazzo has a high stability, high efficiency, low energy consumption, environmental protection, high degree of automation.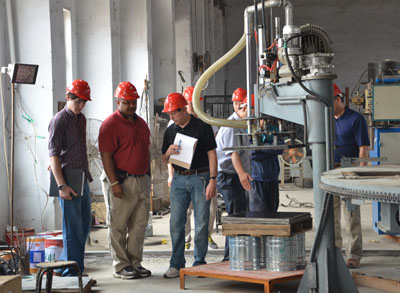 US customers study tour ordered eight plants in my factory terrazzo brick


The eight-position terrazzo brick machine is the high-performance terrazzo brick machine developed on the basis of absorbing the advanced technology of the world. The equipment is beautiful in appearance, ring gear wheel type design, hydraulic station fully enclosed device, And the guide plate to build the whole cast steel, heavy weight, large size, good stability. The man-machine interface adopts Japan Mitsubishi or Taiwan Delta PLC control system, selects the imported brand "man-machine interface" color display (touch screen), microcomputer automation program control. The host is made of pure steel precision machining. The hard chrome guide pillar is used on the surface of the cold drawn steel. The hydraulic system original design integrated block and the exclusive ring gear wheel type design increase the movement smoothness of the whole machine, and the positioning is more accurate and the operating system is more stable. Mold panel with "Cr12MoV (chrome 12 Mo vanadium)" special mold steel finishing, thus ensuring the long life of the mold panel. Host equipped with "large master cylinder", the use of imported accessories ring, so that the host in the production of more stable and safe. Unique design of the next vibration, so that more dense brick raw materials, to suppress the quality of the brick is more high, coupled with the vacuum, so that the drainage process in the brick smoother more smoothly. On the vacuum under the perfect combination of vibration, the brick products on a grade.